AS286 selective BlackHole (formerly known as extended regional BlackHole)
v20201104
Fading away ...
AS286/KPN International was taken over by AS3257/GTT in December 2019. AS286 will be integrated into / migrated to 3257 and fade away. Therefore some of the information found on these pages might be outdated / obsolete.
Standard introduction
This document only applies to the KPN International IP backbone AS286.
The hereby described communities may be adjusted, altered and updated any time. Even our processes cover updates to documentation, there's no guarantee, that it's always up-to-date. In case of doubt, transit customers should contact our NOC and peers should contact peering@as286.net.
A description of standard communities for AS286 can be found here AS286-communities.html.
A general description on routing policies of AS286 can be found here AS286-routing-policy.html.
selective BlackHole "sBH" / extended regional BH "erBH" (transit customers only)
With KPN's standard blackhole community 286:66 (or IETF's 65535:666), all traffic towards the tagged prefix is blackholed / discarded everywhere (even on the PE the customer is connected to), which basically takes the host "offline".
KPN's sBH/erBH communities allow you to blackhole traffic towards a tagged prefix on just some part of KPN's network. As quite often attacks originate from a specific region or do enter KPN's network at only limited places, sBH/erBH communities might help you to keep a certain level of connectivity while still blocking (D)DOS attacks against a certain IP.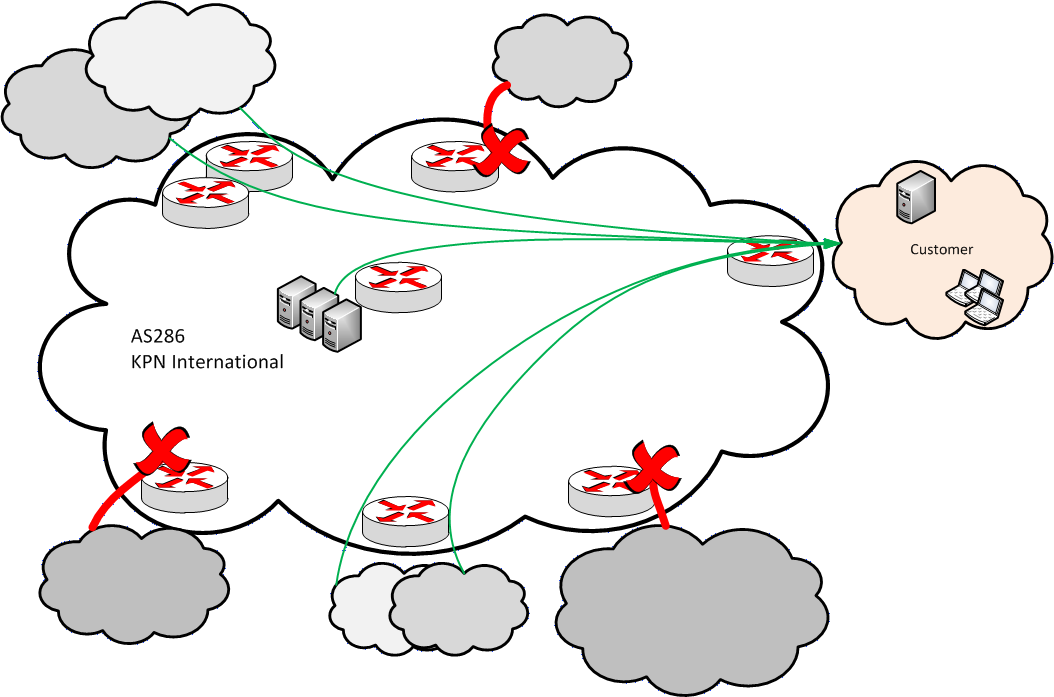 A simple example: A customer connected in The Netherlands is being (D)DOS and the (D)DOS traffic enters KPN's network in the US. With sBH/erBH communities you can "instruct" KPN's network to only blackhole traffic towards the target in the US, while European traffic is still forwarded.
Taking this a step further: if above attack enters KPN's network in just two of the US locations, you can even enable normal traffic forwarding for all the other KPN PoPs in the US.
Notes:
sBH/erBH used initially a "reverse" logic: you instruct KPN's network to blackhole "around" your connection (everywhere except the PE you are connected, except the PoP, the city, the country or continent); to enable again traffic flow for PoPs, cities, countries or continents which fall under the "to-be-blackholed" locations, you can whitelist PoPs, cities, countries or continents.
sBH/erBH is supporting blackholing specific PoPs as well, which eases blackholing in cases, where just a few PoPs needs to be blachholed. Whitelisting however will always take precedence over blacklisting. As such you can't e.g. blackhole a around the PoP you are connected to, whitelist a country and blacklist again a PoP in that country at the same time.
sBH/erBH does never blackhole traffic on the PE you are connected to (otherwise whitelisting wouldn't make much sense). The standard 286:66 (65535:666) total blackhole does this.
286:66 (65535:666) wins over all sBH/erBH communities.
Be aware, that we do drop announcements with too many communities attached, so carefully consider your settings.
Traffic will be forwarded through countries which are blackholing the prefix. E.g. if you mark your prefix to be er-blackholed everywhere, but whitelist it for the US, you should still receive US traffic even if you are connected outside the US, e.g. NL.
sBH/erBH tagged announcements will NEVER be announced to external parties and eventually be not even distributed everywhere in AS286. Thus there should be always a less specific "normal" announcement.
(Updated 20161222: before sBH/erBH tagged prefixes had been only internally distributed to PEs supposed to blackhole; now it's being internally distributed as well to more (but not all) PEs and -depending on the used communities- with the discard action or the normal "forward" information).
It might take a while to identify the source or sources of traffic. Best approach is to start with er blackholing all. If traffic comes still in, another party connected to the same PE is sending / participating in this DOS and the only thing you can do without further help of our NOC is to use 286:66 (65535:666). However, if traffic goes down, start enlarging the radius (e.g. allow site, city, country, continent traffic) to be forwarded again. Starting with whitelisting continents might give you a faster result ...
We can assist you with identifying the PoPs/PEs, where traffic targeted to you is entering our network ... (we are planning to make this information directly available to you on our KPNCare portal in 2016 or 2026 ...).
This feature is only available to "in-band" signaling (on your normal transit session). Sessions to the dedicated BlackHole device of KPN do only support a 286:66 (65535:666) style blackholing. If you are interested in getting this feature enabled there, please let us know.
There are some very, very rare exceptions, in which the blackholed location is slightly "larger" than expected ... but this effects estimated less than 0.0001% of all traffic.
You might also want to have a look on rtsdCoS as alternative, softer than blackholing, option: https://as286.net/AS286-rtsdCoS.html
sBH / erBH - trigger (transit customers only)
You must at least tag your prefix with one of the following triggers. If not, your announcement will be just treated like every other announcements.
| | |
| --- | --- |
| 286:6660 | blackhole everywhere except: on the PE your are connected to |
| 286:6661 | blackhole everywhere except: PE connected and all other PEs on/in this site/PoP |
| 286:6662 | blackhole everywhere except: PE connected and all other PEs in the city |
| 286:6663 | blackhole everywhere except: PE connected and all other PEs in this country |
| 286:6664 | blackhole everywhere except: PE connected and all other PEs on this continent |
| 286:6665 | blackhole only in the explicitly (286:62xx) listed PoPs - Whitelisting will still be considered (but hardly makes sense ;-) |
(Just to document 286:6666, which will show up on sBH/erBH announced routes: 286:6666 is "all except PE"; 286:666[1-4] are just aliases to 286:6666 + WL whatever is needed.)
sBH / erBH - whitelisting (transit customers only)
Attach one or more of the following communities to whitelist (WL) PEs in PoPs, cities countries and continents, which would blackhole traffic based on your chosen trigger or to just explicitly list PoPs you want to blackhole (BL).
Again: whitelisting takes precendence over blackholing!
WL continent

WL country

WL city

WL PoP

BL PoP

286:6990 Europe

286:6900 Austria

286:6700 Vienna

286:6000 wien-s1

286:6200 wien-s1

286:6901 Belgium

286:6701 Antwerpen

286:6001 ant-s1

286:6201 ant-s1

286:6702 Brussels

286:6002 zvtm-s1

286:6202 zvtm-s1

286:6003 zvtm-s4

286:6203 zvtm-s4

286:6902 Switzerland

286:6703 Geneve

286:6004 gnve-s1

286:6204 gnve-s1

286:6704 Zürich

286:6005 zrch-s1

286:6205 zrch-s1

286:6904 Czech Republic

286:6706 Prague

286:6007 pra-s1

286:6207 pra-s1

286:6905 Germany

286:6707 Berlin

286:6008 blnb-s1

286:6208 blnb-s1

286:6009 blnb-s3

286:6209 blnb-s3

286:6708 Barleben

286:6010 brlb-s1

286:6210 brlb-s1

286:6709 Bremen

286:6011 brm-s1

286:6211 brm-s1

286:6710 Düsseldorf

286:6012 dssd-s2

286:6212 dssd-s2

286:6013 dssd-s3

286:6213 dssd-s3

286:6711 Frankfurt am Main

286:6014 ffm-s1

286:6214 ffm-s1

286:6015 ffm-s2

286:6215 ffm-s2

286:6016 ffm-s6

286:6216 ffm-s6

286:6017 ffm-s7

286:6217 ffm-s7

286:6712 Hamburg

286:6018 hmb-s2

286:6218 hmb-s2

286:6019 hmb-s3

286:6219 hmb-s3

286:6713 Hannover

286:6020 hnvr-s1

286:6220 hnvr-s1

286:6714 Kehl

286:6021 kehl-s2

286:6221 kehl-s2

286:6715 Cologne

286:6022 koln-s1

286:6222 koln-s1

286:6716 Karlsruhe

286:6023 ksrh-s1

286:6223 ksrh-s1

286:6717 Leipzig

286:6024 lzg-s1

286:6224 lzg-s1

286:6718 Munich

286:6025 mchn-s1

286:6225 mchn-s1

286:6719 Nürnberg

286:6027 nbg-s1

286:6227 nbg-s1

286:6720 Stuttgart

286:6028 stgt-s1

286:6228 stgt-s1

286:6906 Denmark

286:6721 Copenhagen

286:6029 kbhv-s1

286:6229 kbhv-s1

286:6907 Espania

286:6722 Barcelona

286:6030 bcln-s1

286:6230 bcln-s1

286:6723 Madrid

286:6031 mdd-s2

286:6231 mdd-s2

286:6908 Finland

286:6724 Helsinki

286:6032 hski-s1

286:6232 hski-s1

286:6909 France

286:6725 Nanterre

286:6033 nntr-s1

286:6233 nntr-s1

286:6726 Paris

286:6034 prs-s4

286:6234 prs-s4

286:6727 Saint Denis

286:6035 sdns-s1

286:6235 sdns-s1

286:6911 Ireland

286:6728 Dublin

286:6036 dbln-s2

286:6236 dbln-s2

286:6912 Italy

286:6729 Milan

286:6037 mla-s1

286:6237 mla-s1

286:6913 Luxemburg

286:6730 Bettembourg

286:6038 bmbg-s1

286:6238 bmbg-s1

286:6914 Netherlands

286:6731 Almere

286:6039 alr-s1

286:6239 alr-s1

286:6732 Amsterdam

286:6040 asd2

286:6240 asd2

286:6041 asd-s14

286:6241 asd-s14

286:6042 asd-s15

286:6242 asd-s15

286:6043 asd-s16

286:6243 asd-s16

286:6044 asd-s17

286:6244 asd-s17

286:6045 asd-s4

286:6245 asd-s4

286:6046 asd-s5

286:6246 asd-s5

286:6047 asd-s6

286:6247 asd-s6

286:6048 asd-s7

286:6248 asd-s7

286:6049 asd-s8

286:6249 asd-s8

286:6733 Aalsmeer

286:6050 asmr-s1

286:6250 asmr-s1

286:6734 Bura

286:6051 bura

286:6251 bura

286:6052 bura2

286:6252 bura2

286:6735 Haarlem

286:6053 hlm-s1

286:6253 hlm-s1

286:6736 Oude Meer

286:6054 oudmr-s1

286:6254 oudmr-s1

286:6737 Rotterdam

286:6055 rt2

286:6255 rt2

286:6915 Norway

286:6738 Oslo

286:6056 oslo-s1

286:6256 oslo-s1

286:6916 Poland

286:6739 Warsaw

286:6057 wsw-s1

286:6257 wsw-s1

286:6919 Sweden

286:6740 Stockholm

286:6058 sthm-s1

286:6258 sthm-s1

286:6059 sthm-s2

286:6259 sthm-s2

286:6921 Slovakia

286:6741 Bratislava

286:6060 brlv-s1

286:6260 brlv-s1

286:6923 United Kingdom

286:6744 London

286:6063 ldn-s1

286:6263 ldn-s1

286:6064 ldn-s10

286:6264 ldn-s10

286:6065 ldn-s2

286:6265 ldn-s2

286:6066 ldn-s3

286:6266 ldn-s3

286:6745 Manchester

286:6067 mchr-s1

286:6267 mchr-s1

286:6746 Runcorn

286:6068 rncn-s1

286:6268 rncn-s1

286:6991 North America

286:6924 United States

286:6747 Ashburn

286:6069 ahbn-s1

286:6269 ahbn-s1

286:6748 Chicago

286:6070 chg-s1

286:6270 chg-s1

286:6749 Dallas

286:6071 dlls-s1

286:6271 dlls-s1

286:6750 Los Angeles

286:6072 lags-s1

286:6272 lags-s1

286:6751 Miami

286:6073 miaf-s1

286:6273 miaf-s1

286:6752 New York

286:6074 nyk-s1

286:6274 nyk-s1

286:6075 nyk-s2

286:6275 nyk-s2

286:6753 San Jose

286:6076 sjca-s1

286:6276 sjca-s1

286:6993 Asia

286:6903 China

286:6705 Hong Kong

286:6006 honk-s2

286:6206 honk-s2

286:6922 Turkey

286:6742 Ankara

286:6061 ankr-s1

286:6261 ankr-s1

286:6754 Gebze

286:6077 gbze-s1

286:6277 gbze-s1

286:6743 Istanbul

286:6062 itb-s3

286:6262 itb-s3